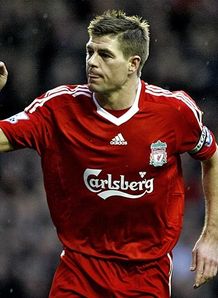 O
ver the last
two Premier League
games, there is no denying that
Steven Gerrard
has been
head and shoulders above
anyone in the league, however over the course of the
season
, has the
28
-year old done enough to be crowned
PFA Player of the Year
?
Liverpool
boss
Rafa Benitez
certainly thinks so.
The
Spaniard
had this to say : "He would be
my vote
. If he can continue playing at this level, then
why not?
... For me, Stevie is
one of the best players in the world
. To say one is the best above anyone else is
difficult
because there are a lot of
quality players
about but he is one of the best. That is
clear
."
His performances against
Manchester United
and
Aston Villa
respectively, were quite frankly,
world class
. There is
no doubt
that come the
end of the season
, when players have to vote for their Player of the Season, Gerrard will certainly be on quite a
number of the ballots
, however will he get enough
votes
to be crowned Player of the Year?
Before the United game
two weeks ago
, the only name really being
mentioned
to take the award was
Serbian
defender
Nemanja Vidic
. It just goes to show you how quickly things can change in
football
. On one hand you have Vidic, who had a
nightmare
of a game before eventually being
sent off
and on the other hand you have Gerrard who plays
incredibly well
and is automatically
considered by many
the Player of the Season.
Personally, I would
agree
with Rafa that Gerrard is the
best in the league
at the moment and if he continues this
kind of form
, how could he miss out.
So will Gerrard be the
man to take the award
come the
end of May
or will it be Vidic, or anyone else for the matter, to take the award?
Comments below
please.