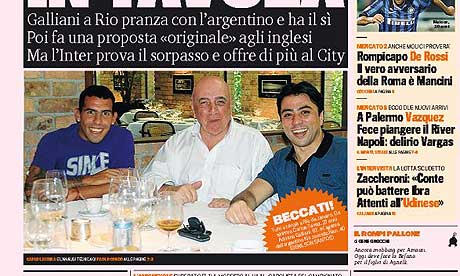 Carlos Tevez is seen having lunch with Adriano Galliani and Kia Joorabchian on the front page of Gazzetta dello Sport.
•
Inter go directly to City with offer as Galliani meets Tevez
• Player's adviser insists Milan are only team in the running
Inter's technical director Marco Branca is understood to have met the City director Brian Marwood on Thursday, submitting an offer to take the player on loan until the end of the season and then make the deal permanent for €25m (£20.6m) in the summer. Milan have also been in contact with City, with the club's chief executive John MacBeath joining Galliani, Tevez and Joorabchian on a conference call on Thursday to discuss the details of a possible deal.
Gazzetta dello Sport report that Milan's offer could be a complex one, made up of a loan until the end of the season and then an obligation for the Rossoneri to make the deal permanent over the summer only if they are able first to sell a significant player from their existing squad. The newspaper speculates that the most likely names attached to this clause are Alexandre Pato and Robinho.
Joorabchian made it clear that his preference was a deal with Milan. "We had a dialogue with Inter over many months, but since August we haven't had any contact," he said. "Now we are talking only with Milan and Manchester City are fully aware of this."
The City manager Roberto Mancini said he simply hoped that a deal would be concluded by the end of the week, saying: "He has not played for three months, it's right that he gets back to doing so."